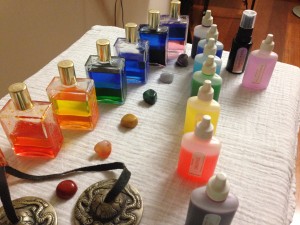 Using the Chakra set from the Equilibrium bottles, Pomanders, Quintessences, Crystals and more, each of your chakras will receive a gentle massage while laying down on a massage table.  This massage will allow you to let go of what is no longer needed and receive the gifts that will help you achieve your true potential.
The breath plays a very importance role in this technique as it is in the out-breath when you let go of the old and in the in-breath you receive the new.
The Aura-Soma Chakra Massage takes 1.5 hours approximately and you will leave feeling relaxed and renewed.
The Aura-Soma oils will continue to work even after you have left your session, so we recommend you don't take a shower after the massage, but instead let your body absorb the oils and drink plenty of water.
Cost: $120
For Bookings click here
For enquiries, send us a message from our Contact Us page
Click here to get back to our Services page