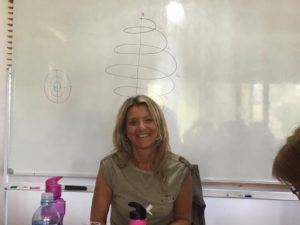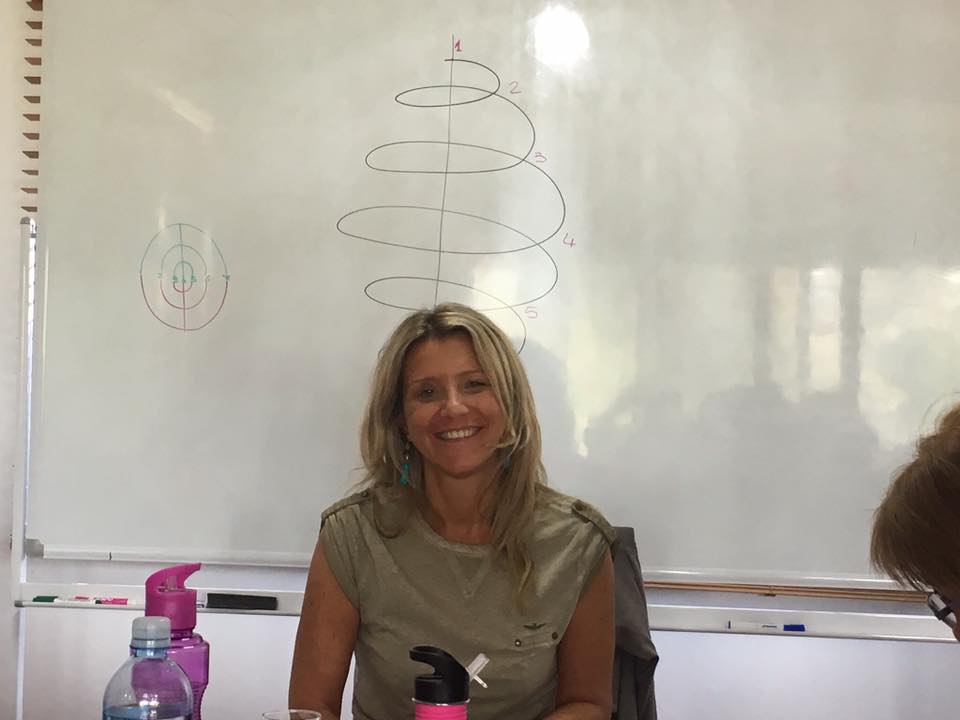 Dr Cristiana Caria is a spiritual teacher and Spiritual Intelligence (SQ) Coach, who works with the Quantum Strategy Dynamics (SQD) Methodology defined by Danah Zohar.
She was born in Italy and was educated at the University of Bologna in Humanities and Arts. At the age of 14 she had a major accident and, while she was in coma, she had a near-death experience. This event changed the course of her life as she started looking for a way to re-connect to "the other part".
She lived in Australia from 2000 to 2006 and during that time she attended many courses on Spiritual Healing, Crystals, Aura-Soma® and Numerology.
In 2002, she started working at a Holistic Centre as a Colour Consultant and Spiritual Healer.  Later, she was asked to teach meditation courses and seminars for the development of the spiritual aspect and the inner potential.
In 2004, Cristiana begun to travel back to Italy twice a year to teach her classes and courses and because of her intense work overseas, in January 2006 she moved back to her country where now she is a very active teacher.
The Australian experience was very positive and insightful. There, Cristiana met Mike Booth, principal of Aura-Soma Ltd and heir of Vicky Wall, founder of the system, and after her return became very soon his official Italian translator and organizer, bringing many international students and people to attend his workshop in Italy and UK. Now she is one of the most accredited Aura-Soma teachers in the world.
We are very grateful to have Cristiana coming to Australia again in 2020 to offer a few of her beautiful courses. See below for descriptions for each course.
THE MASTER NUMBERS 1-day workshop (Open to all)
All of the double-numbers 11, 22 etc have a special emphasis. This informative 1-day workshop, reveals their true potential and meaning.
Each Master number carries a specific spiritual purpose and thus a higher
field of consciousness; it asks us to Master our life in order to manifest that commitment on the physical level.
For this reason, it makes us feel a constant drive to go beyond who we are at each time by feeding higher expectations and aspirations for ourselves. The Master Numbers are related to the energy of fire and, as a consequence, they talk about significant strengths and intense challenges which trigger within us an endless urge and intense inner turmoil until we choose to deal with them. They talk about a powerful process of awakening – which is not going to be easy – because we may be destined for greatness or high service to humanity.
Cost: $150.  Special price: $130 if you bring a friend.
THE SEVEN RAYS OF LIGHT AND INITIATION 4 day course (Open to All)
This is in relation to your birth chart. The whole philosophy of Esoteric subjects is to help Humanity achieve a state of Initiation. None reveal this more than the Theosophical teachings of the Energetic Rays of Light.
Cristiana has brought through this particular course, and it could be said, that this one course brings all the other courses together in relation to Esoteric Numerology. This particular course would be very helpful for those of you who have had, or are planning to have, a Private Consultation with Cristiana. It also reveals the importance of the 7 Rays in our lives.
Cost: $650. Special price: $625 if you also do another course.
MASTER CLASS 2 – The Treasure Hunt – 2 days course. (Pre requisite: Foundation in Esoteric Numerology) 
This module centres on the name of the person.  You will find your key and your treasure locked in the Karmic wisdom of your name, using the original blueprint of creation.
Cost: $325
ESOTERIC ASTROLOGY PART 1 – 4 day course (Open to All)
The Astrological Signs.
The word astrology means "account of the stars". Its purpose is to understand the meaning of the events and situations that we experience in our life through the study of the movements and the angles that each planet creates in relation to the position of the Earth.
The movement in heaven shows us what each person has decided to endeavour in order to achieve the fusion between the personality, or lower self, and the soul or higher self. According to the ancient teachings this
process that implies a rising in consciousness is called an initiation process. The ancient texts speak about the possibility of knowing ourselves as we are and revealing the potential of the soul by following and integrating the different experiences that each individual has chosen during their life. The quality of each experience is written in the movement of the stars and it is possible to understand its flow through the personal astrological chart.
Cost: $650. Special bundle price if you do both Astrology courses: $1250
MASTER CLASS 3 – Numbers as Creation and Creators – 2 days course – (Pre requisite Foundation in Esoteric Numerology)
In this module, we explore the dynamic, ever-changing aspect of the structure of creation.  We follow the traces of the movement of numbers and cycles, re-creating creation.
Cost: $325
ESOTERIC ASTROLOGY PART 2 – 4 day course – (Pre-requisite, Esoteric Astrology Part 1)
The Planets and your Chart Aspects.
In an astrological chart there are 3 levels of consciousness based on the 3 crosses – the mutable cross, related to personality, connected to form, body and mass consciousness; the fixed cross, associated to the disciple, the one who is aiming to align to the soul and that is working on taming the ego; and then the initiate, the one who has become completely transparent (selfless) and that allows the energy of Spirit to flow through.
The first two crosses move clock-wise, as the individual is completely subjected to the energy of the stars. The last one moves anti clock-wise as the initiate has managed to free himself from the dependency from the stars and he is now using the energy that flows through them to co-create with the creator.
The aim of this course trilogy is to teach the student how to read an astrological chart and understand the potential of growth that it hides showing how it is possible to transform a challenge into a gift and rise in consciousness. As consciousness expresses itself through colour, our journey will be supported by the Aura-Soma colour-care® system astrology colour and Equilibrium bottles attributions in order to enhance the understanding of our soul journey through time.
If you are interested on these courses, would like an Information Pack or would like to understand more about the bundle prices and more, please send us a message on our Contact Us Page and we'll be in touch with you very soon to provide you with all the required information.