People often belittle others' fears, as they face situations in life that have caused some sort of pain in their past. They say something like: "It's just like riding a bike".
But how easy is to get back on a bike after a long time?
Today, my husband invited me to ride the bike with him. I hadn't ridden a bike in more than 9 years.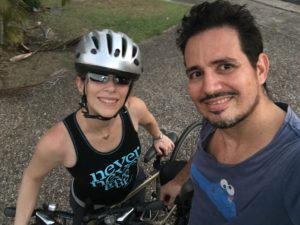 As a child I was unstoppable. I would ride my bike up and down the road; go at fast speeds, even through narrow spaces. I was very agile and very confident about my abilities. As a young adult, I continued riding my bike often. I would ride to the gym and always felt very safe doing all sorts of tricks with my bike. I then came to Australia and as soon as my financial situation allowed it, I bought a bike. I used to ride it to and from University. I used to ride along the riverside. I was no longer very fast, but I was very confident of my skills. I even rode my bike carrying my first baby girl at the back on one of those bike childseats. Then, all of a sudden, I stopped. I never rode again. And just like that, 9 years went past.
Today, all these memories went through my mind in 5 seconds. The excitement of getting back on my bike was incredible, but then a thought came to me. Do I still know how to ride a bike? Fear took over me. Oh no! Wait! I'm not ready! I'm not sure how to ride…
My loving husband looked at me with a smile and said: "Don't worry! We'll practice first". He went with me down the local road and reminded me how to change gears. He indicated the steps I had to take and encouraged me to try. I did what he indicated and started to feel calmer. After a few minutes, he said: "OK! Now let's go to the park!" "Nooooo!", I implored…"I'm not ready!" Again, he looked at me with kind eyes and said: "We'll go slowly". Once again, he encouraged me to follow. I, with a fearful heart, followed him.
I was a little clumsy, I felt uncoordinated when approaching a narrow space or bridge. My bike wobbled from side to side, but I kept going as my loving man supported me all the way. As we continued to ride, I felt a bit more confident and was able to move gears more accurately. I looked more coordinated and was able to go in a straight line. It will take a few more rides, before I acquire my old abilities. However, I am satisfied that I tried and got over the fear of not knowing what to do anymore. I also enjoyed the ride as much as I used to. Feeling the wind in my face was priceless.
The experience also reminded me that "getting back on the bike" is not as easy as others make it sound.
Sometimes, it takes a lot of courage to face those situations that have hurt us in the past. Sometimes, it might take a little more than loving encouragement to help us to get over our fears and try again.
What I can say to you is that it is worth it! If this is where you are at the moment, I know it is not easy. I know getting back on the bike is not easy, but the satisfaction of facing the fear and trying again is wonderful. It restores our self-confidence and love. It doesn't matter if you fall again. What matters is that you keep trying and move forward.