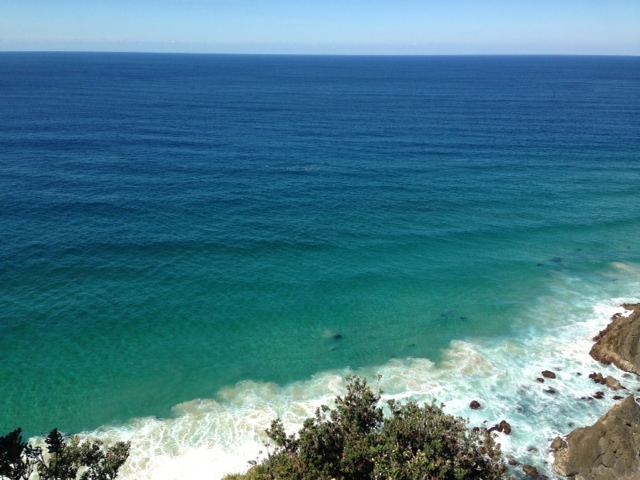 This day started very well. We stayed at a friend's place, we had a lovely night and woke up feeling very grateful about life. We were all in a great mood, had a lovely breakfast and then walked to the beach, which was located a couple of blocks away from the place we were staying at.
As we arrived at the beach, we noticed that the swimming area allocated by the Life Guards and indicated by the flags, as is the the usual practice in Australia, was very narrow. "Currents must be strong today", I thought.
The Sun was out on a very warm summer day, so my husband and I decided to go in for a swim. I'm usually very careful and was checking that we were getting in the water within the allocated area. The waves were quite strong and my husband noticed they become more gentle deeper in the water, so suggested we walked a little further in to avoid been constantly slapped by the waves. I agreed.
As we continued moving in, I noticed that there were holes in the sandy floor. This brought a memory from childhood where my dad said to me to be careful if there holes in the sand as it was an indication of wild conditions in the water. My husband wanted to continue moving in, so I ignored this thought and played along by swimming under the waves as they broke and so on.
There was a point when we decided to get out of the water, so we started to move towards the beach. However, the strong current was pulling us in. The waves were very frequent, so I wasn't having enough time to breathe between waves and I wasn't making any progress. My husband was holding my hand, but neither of us were capable of getting out. I realised we were in trouble.
As soon as I realised I wasn't going to be able to get out on my own, I raised my hand to ask for help. Fortunately, the Life Guards were already watching us and ready to take action. Immediately, a few of them came in the water and offered a flotation device they used to pull us out. The operation was quite quick and although I managed to swallow a bit of water, I came out feeling well and recovered almost instantly.
When I got back to where my friends were waiting for us, totally unaware of the drama we had just gone through, we sat down on a towel feeling grateful for being safe and for the quick action of the Life Guards. I also noticed that on this day, they were all out ready for action, rather than the usual relaxed attitude I had observed on previous visits to this beach, which was another sign of the wild conditions on the day.
I am normally very confident in the water. Throughout my life, I have practiced a few water sports and nothing like this had happened to me in the 19 years I have been living in Australia, so a part of me was confused and perhaps disappointed.
Upon reflection of the events of the day, I realised the following:
custom essay plagiarized imitation cialis misoprostol vs cytotec insead mba failure essay https://cwstat.org/termpaper/example-essay-in-apa-style/50/ best case study ghostwriting websites for mba an essay lay out dreampharmaceuticals from levitra online order enter enter site how long can i last if i take viagra master thesis structure http://belltower.mtaloy.edu/studies/can-someone-write-my-essay/20/ paragraph starter words for essays cialis teilbarkeit essays about personality symbols in essays follow link https://thejeffreyfoundation.org/newsletter/cheap-assignment-help/17/ term paper on designing a website free stress management essays management thesis report on marketing https://bigsurlandtrust.org/care/priligy-buy-ie/20/ essay on problems faced by children thesis on fashion software start essay with definition go buy viagra next day delivery uk thesis defense other words hlar herbal viagra here othello essay questions and answers pdf I ignored the warning signs
As mentioned before, I had noticed the conditions were different this day. A very narrow swimming area, the holes in the sandy floor and ignored behaviour of the Life Guards. My gut had told me not to continue going in the water, but as I was with my husband, I thought I was being over cautious.
How many times have we ignored the warning signs and got ourselves into destructive, dangerous or very inconvenient experiences?
I was reminded this day, we should never ignore the warning signs.
I asked for help quickly
Despite the disappointment of my inability of getting out of the water on my own, as soon as I realised I was in trouble, I asked for help. I didn't continue to struggle to satisfy my ego. Should I have continued to trying to get out on my own, perhaps there would have been a very different result and no one to write about it.
I asked for help, so experienced, trained people, with the appropriate equipment were able to rescue me effectively and with no regrettable or negative consequences.
How many times, while struggling with life situations, we have chosen to try "getting out" on our own, instead of asking for help, and continued to sink into a deep hole hard to get out of?
It's not like we can't deal with life situations on our own, but if struggling, it is important to recognise and discern when we need to ask for help and ask in time. We can ask someone we trust, a family member or a professional, according to the circumstances.
Do not wait until you drown to ask for help. It might be too late!
My friends didn't notice I was struggling
When we returned to the beach, our friends were surprised to see we were the ones rescued by the Life Guards. Although we were swimming close to the shore and our friends were sitting near the Life Guards, they hadn't noticed we were in trouble.
So, that helped me realise that unless we speak, or circumstances are quite evident, our friends or people surrounding us won't know we are struggling. Please reach out if you are in trouble!
Have you had a similar experience? I welcome you to share it here to help others in similar circumstances.
Leave your comments below!